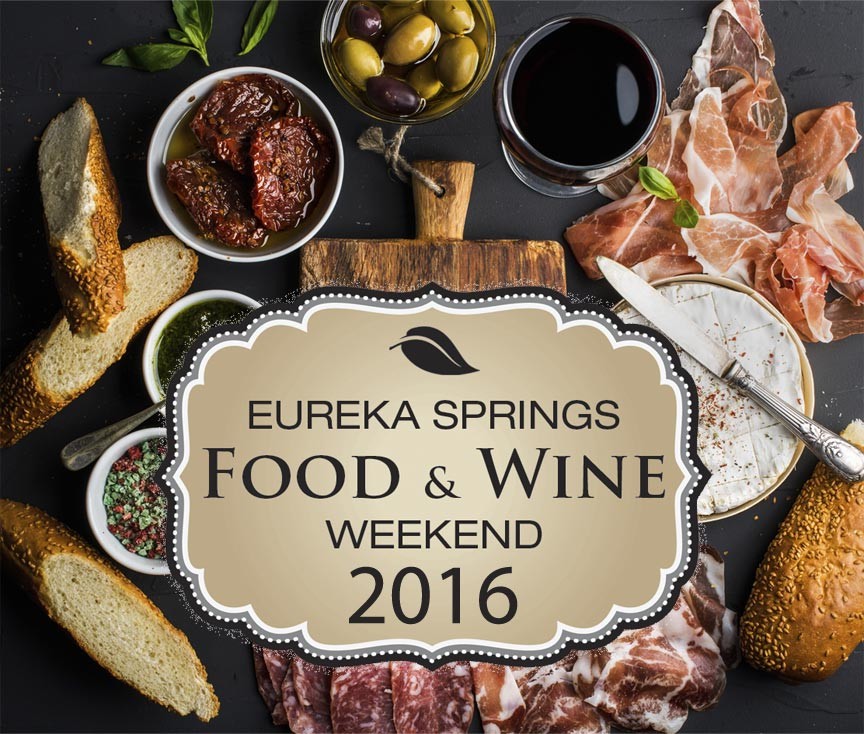 Foodies, epicures, and bon vivants take note: this year's Eureka Springs Food & Wine Weekend is only a month away! November 10th through the 13th, 2016.
The Eureka Springs Food & Wine Weekend is an opportunity to come and experience the culinary excellence that the restaurants of Eureka Springs are known for.
Enjoy signature courses expertly paired with wines to bring out the best in both.
Headlining this year's event are five top venues of Eureka Springs. Each has their own special, offered each night of the Food & Wine Weekend:
The Stone House will be offering wine and cheese pairings:
Verdeo Verdejo paired with Spanish Manchego Cheese
Sangre de Toro Garnacha paired with Valbreso Sheep's Milk Feta Cheese
Altos Ibericos Rioja paired with Iberico Cheese and Absinthe Salami
Apaltagua Reserva Chardonnay paired with Balsamic Bella Vitano by Sartori
Apaltagua Reserva Pinot Noir paired with Mountain Gorgonzola
Apaltaqua Costero Extra Brut pared with Bella Vitano Chai by Sartori
Grand Taverne Restaurant will be offering Prime Rib au jus and special wine flights and pairings
KJ's Caribe Restaurant + Cantina will have a special menu from Farmers Market and pairings with Railway Winery. Enjoy a 5-course, wine-paired dinner or purchase the courses individually. Wine samplings will also be available.
Cottage Inn will be celebrating their favorite wines:
Malvira Roero Arneis paired with Salmon Rillettes
Roero Rosso Niebbiolo paired with Sweet Potato Bisque with Toasted Pumpkin Seed Oil
Barbera St. Michele paired with Chicken a la Cacciatora on Polenta
Prosecco Brut Bianca Vigna paired with Chocolate Mousse with Spicy Chocolate Brownie
Coffee to finish
DeVito's of Eureka Springs will be offering a special dinner in addition to their regular fish and lasagna specials. This special dinner includes:
Spiced Pumpkin Soup
Wine Poached Salmon and Smoked Trout Rillette with Garlic Toast Points
Grilled Bone-in Pork Chop with Pumpkin Gratin and Savory Candied Pecans.
Bread Pudding with Rum Sauce
Cocktail and Wine Flights
Other food and wine events and specials, yet to be announced, will be available all around town throughout the four-day event
Eureka Springs Food & Wine Weekend
November 10th through the 13th, 2016
Eureka Springs, AR
http://www.eurekasprings.org/ – www.facebook.com/EurekaSpringsFoodWineFestival
Eureka Springs Food & Wine Weekend Lodging
5 Ojo Inn Bed & Breakfast is your gateway to the best Eureka Springs experience. We offer a convenient location, historic charm, gourmet breakfasts, and 9 guest rooms. Book your stay at 5 Ojo Inn Bed & Breakfast today!