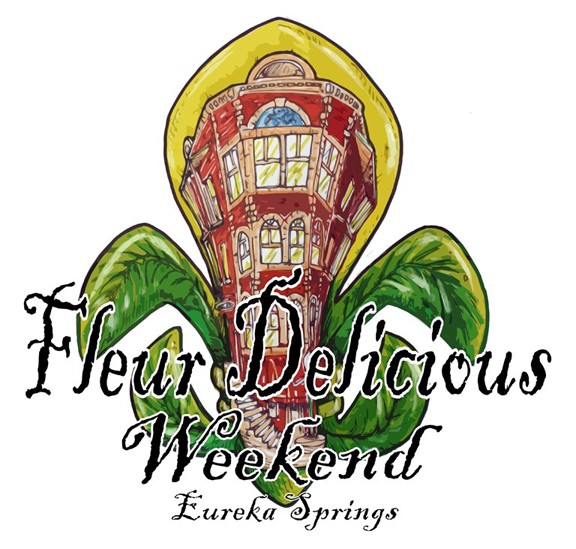 It's almost time for the 6th annual Fleur Delicious Weekend, Eureka Springs' French-themed, festival of the five senses, scheduled for the July 5th through the 10th, 2016.
Back with a passion, Eureka Springs' Fleur Delicious Weekend promises even more of what has made the last 5 years' events such a success!
Fleur Delicious Weekend (a bit of a misnomer, given the full extent of the event – 6 days of activities!) is meant as a celebration of your senses: sight, sound, smell, touch and taste.
During the event, businesses all around Eureka Springs – restaurants, bars, art galleries, boutiques, spas and music venues – will get in the act with French-inspired, sense-stimulating indulgences. Food, drink, the arts and entertainments, contests, seminars, gallery walks, and so much more.
2016 Eureka Springs' Fleur Delicious Weekend Events
Delicious Wine Pairings at Keels Creek Winery
July 5th-7th, 11am to 3pm
Enjoy eclectic and unpretentious wine pairings at this fun and delicious event. We all know to pair white wines with white meats and red wine with red meats – but what wine goes with … Cheez Whiz? Popcorn? Hotdogs? Find out what pairs with your favorite comfort foods!
Palette to Palate: Watercolor & Wine Edition at Basin Park Hotel
July 7th, 6pm to 9pm
An evening of wackiness, watercolor and wine at The Basin Park Hotel's beautiful 6th floor lobby with the talented and energetic Julie Hop. Paints, paintbrushes and watercolor paper will be provided. The first glass of wine included with your ticket and a cash bar will be available.
For more information and tickets: essa-art.org
Delicious Art Market at Basin Spring Park
July 9th, 12pm to 7pm
Fashion and Jewelry from Eureka Springs artists plus a performance by Melonlight Dance will perform at 4pm
Waiters Race down Spring Street
July 9th, 2:30pm
You have to see it to believe it – a great show.
Second Saturday Music in the Park with Brave Combo
July 9th, 5pm-7pm
A free show, Brave Combo is a Texas based quintet that has perfected a world music mix, including salsa, meringue, rock, cumbia, conjunto, polka, zydeco, classical, cha cha, the blues and more.
Second Saturday Gallery Stroll
July 9th, 6pm-9pm
Galleries around town will present special showings and artist's receptions, including complimentary wine and hors d'oeuvres.
Eureka Springs' Fleur Delicious Weekend 2016
July 5th through the 10th 2016
Downtown Eureka Springs
For more details, be sure to visit: eurekasprings.org
Eureka Springs' Fleur Delicious Weekend Lodging
5 Ojo Inn Bed & Breakfast has 9 rooms between two historic homes and two cottages in the historic district of Eureka Springs and every guest enjoys an elegant, three-course breakfast each morning. Let us be your home away from home during your Eureka Springs getaway – you'll be so very glad you did!