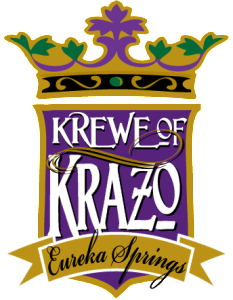 By the time you read this, Eureka Springs' Eureka Gras 2016 – January 9th through February 9th – will have likely already begun but fear not! Mardi Gras is a month long event with lots of fun events scheduled and there's still time to come celebrate with the Krewe of Krazo!
The 11th annual Eureka Gras, sponsored by our very own Krewe of Krazo ("Krazo" is "Ozark" backwards), promises to be even bigger and better than the previous decade's worth of Eureka Springs Mardi Gras celebrations.
A New Orleans style Mardi Gras, this year's Eureka Gras theme is "Hooray for Hollywood" and everyone is welcome to attend! While some events, such as the Jokers Masquerade Ball and the Coronation Ball are private, most are open to the public and not to be missed!
The Black Light Ball scheduled for Saturday, January 30th at 8pm, for example, is billed as a "Sexy, Artistic, & Fun event in a stylish underground space with Black Light Paint, Models, Music & More!" Tickets are available online and only $25 per person.
Another popular event, the Mayor's Ball, is a fun opportunity to dress up in Hollywood or Mardi Gras style attire (casual dress is also acceptable) and party at the top of the Basin Park Hotel with live music from Melonlight Studios. Tickets for this event are only $35 apiece and are also available online.
The Jazz Champagne Brunch is also a favorite, offering fine dining, fun, and live jazz music in the Crystal Dining Room at the world famous Crescent Hotel. Be sure to bring your umbrella for the 2nd line dance! $25 per person with reservations recommended: 479-253-9652
Hooray for Hollywood – 2016 Eureka Gras Schedule
Kings Day Kick Off
Saturday, January 9, 5pm
Rowdy Beaver – 417 W Van Buren
Taste of N'Awlins
Saturday, January 23, 1pm to 3pm
Grand Central Hotel – 37 North Main Street
Eureka Gras Light & Sound Parade
Saturday, January 30 – 6pm
Spring and Main streets, downtown
Black Light Ball
Saturday, January 30 – 8pm
Grotto Wood Fired Grill & Wine Cave – 10 Center St.
Jokers Masquerade Ball – PRIVATE EVENT
Thursday, February 4 – 6pm
Inn of Ozark Convention Center – 207 W. Van Buren
Coronation Ball – PRIVATE EVENT
Friday, February 5 – 6pm
Crescent Hotel Crystal Ballroom – 75 Prospect Ave.
Eureka Gras Day Parade
Saturday, February 6 – 2pm
Spring and Main streets, downtown
Mayor's Ball
Saturday, February 6 – 7pm to 11pm
Basin Park Hotel – 12 Springs St.
Jazz Brunch
Sunday, February 7 – 11:30am to 2pm
Crescent Hotel – 75 Prospect Ave.
FAT Tuesday, St Liz Cajun King Cake Ball
February 9 – 6pm
Parish Hall – 232 Passion Play Rd
For more information on and tickets to Eureka Gras 2016, be sure to visit www.eurekaspringsmardigras.org. Everyone is invited to attend and a great many will, so book your trip today while there are still tickets to events and rooms in town to be had!
2016 Eureka Gras Lodging
Whatever brings you out on your Eureka Springs getaway, you can always rest easy at 5 Ojo Inn Bed & Breakfast! Let us be your home away from home during Eureka Gras – or anytime you're in the area! Laissez Les Bon Temps Rouler à Eureka Springs, Arkansas!